I have always believed that a sense of purpose would drive change, no matter whether that change was behavioural, economic or cultural. And as such, my work in marketing has always been driven by an interest in psychology, behaviour and action. The reality is, is that I am curiously interested in people and what makes them tick – not in the things that they tell you when prompted, but in the millions of tiny actions that create our personalities. For example, I love the way that vegans wear leather, or doctors smoke cigarettes. I adore the inconsistencies that defeat algorithms and confound logic.
But I also love the way that these apparent inconsistencies can also create opportunities.
Over the last couple of years, businesses have started to pay closer attention to millennials – that generation born between 1982 and 2004. And while the span is open to debate, it is clear that this generation have a substantially different mindset from those that came before. I notice this in the work that I do with youth entrepreneurship organisation, Vibewire – where I am regularly confronted by behaviours, actions and expectations that, on the surface, appear completely alien. And I notice it in my work with corporations and clients, and in the research I do for various public speaking events. But as this generation begins to reach into management and executive ranks of government and business, it is something that we are all having to come to grips with.
Deloitte's Millennial Survey is a recent example of the research which serves to reinforce what we have long suspected – that a sense of values and purpose is at the core of the millennial mindset. Thus far we have seen this play out in the consumer landscape, with a significant reduction in leading indicators of personal consumption – consider:
The fall in the number of driving licenses issued and the downstream impact on car sales
The rise in preference for public transport and the increasing pressure on inner city housing
The interest in entrepreneurship opportunities and skills and the downstream disinterest in professional careers and career paths.
The Deloitte report indicated that while millennials are "pro-business", they are also particularly interested in business' potential to "do good":
Millennials continue to express positive views of business, and their opinions regarding businesses' motivations and ethics showed stark improvement in this survey. However, much skepticism remains, driven by the majority-held belief that businesses have no ambition beyond profit. Almost nine in 10 (87 percent) believe that "the success of a business should be measured in terms of more than just its financial performance."
However, while there is an alignment of values between business and millennials, there is a substantial gap in the alignment of purpose. The report concludes: "Millennials would prioritize the sense of purpose around people rather than growth or profit maximization".
This, of course, suggests unsettling economic, cultural and social futures while the mis-match is sorted out. But as in most things, the most negative impacts will be felt by those businesses that respond too late or fail to plan strategically.
How to plan ahead for generational change
Whether your business has felt the winds of generational change or not, make no mistake, it is coming. From 2015, the Baby Boomer generations began retiring from the global workforce, taking their years of experience and expertise and substantial spending power with them. This trend will accelerate in the coming years. And as those experienced business leaders trade suits and ties for no ties and sun-filled beaches, enterprises from downtown Chicago to dusky Beijing will be restocked with ambitious, values focused millennials seeking to make their mark on the world. And this shift will force substantial change to what has been "business as usual", with values and purpose taking centre stage.
Anecdotally, we are already seeing this play out. Financial services organisations are softening their positioning and message to the market. Utilities and resources companies are speaking of values, and professional services firms proclaim purpose and social impact. It's out with conspicuous consumption and in with the sharing economy.
But this is just the beginning. Real change must be embedded deep in the hearts and souls of these organisations. It must be lived in the brand experience. And the "old ways" – the "business as usual" approaches must be re-made for this changing age.
Innovating for social impact
Often when we talk of innovation, we focus on something new or novel that is introduced to the public. It could be technology or an experience. It could combine the two. But we will begin to find that our efforts at innovation trip and stumble as they reach the market if we fail to take into account the changing nature of our buyer's values and purpose. It won't be good enough to put "lipstick on a pig" and serve it up on a bed of kale. We will need to begin the challenging task of creating shared value outcomes that don't just serve our markets, stakeholders and management. We will need to address social impact too.
Over the last year or so, I have been working to create powerful business innovation frameworks that help entrepreneurs bring their products and services to market faster. My very first of these was an adaptation of the Lean Canvas used by startups for the purposes of social impact. I called it the Shared Value Canvas. Recently I have turned my attention to workshop and facilitation formats that use the same lean and agile methods employed by the world's most innovative companies, tweaked to incorporate a social impact or social innovation outcome.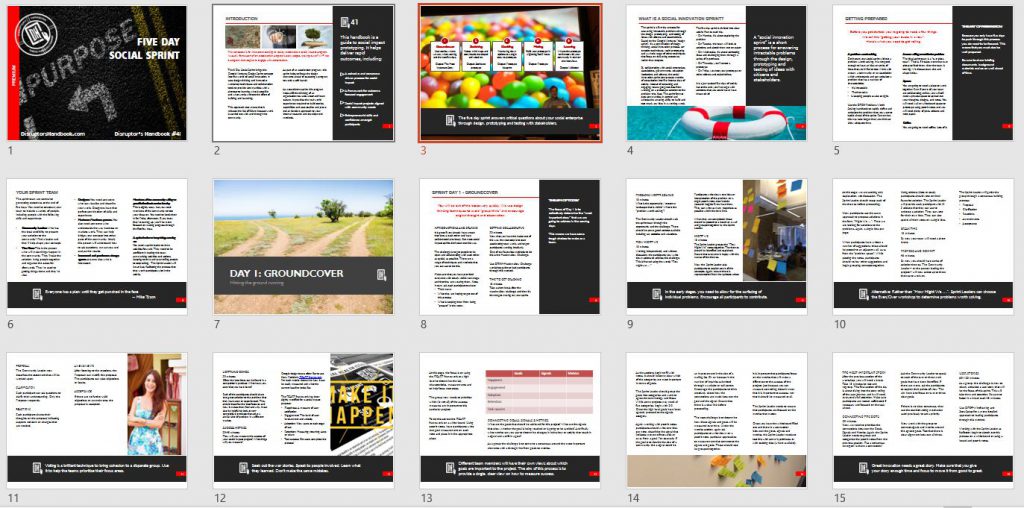 In the coming days, I expect to release a comprehensive handbook that guides facilitators and teams through a Five Day Social Sprint. Designed for not-for-profits and for-purpose organisations, it's a deep dive into the tools and techniques that rapidly move from idea to product within a week's worth of effort. It has been inspired by the Google Ventures, five day sprint process – but revised and refocused for social impact.
And while I hope it finds favour with charities and not-for-profit organisations around the world, I also hope it inspires more traditional businesses to find tangible ways to bring purpose and values to life within their organisations, one innovation at a time.