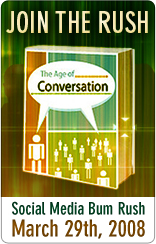 A couple of days ago, Drew McLellan and I announced the the title of the successor to Age of Conversation. But before we all start thinking about the next edition — about what is in it and why — there is some unfinished work still to be done on the first edition.
Chris Wilson has spearheaded and orchestrated a bum rush on the Amazon charts for the book, and it starts tomorrow (Friday). If you have not yet purchased your copy, SATURDAY is the day to do it. If you want to purchase MORE than one copy, Saturday is the day to do it … one at a time.
All this is designed to push the book up the Amazon charts, one sale at a time.
Remember, by purchasing the book, you not only get access to some sharp insight and commentary about the world of business and social media — you also support Variety, the Children's Charity. If you want to know how you can help, Chris lays out the immediate steps neatly here — and the plan of action for Saturday here.